Alphabetical Lists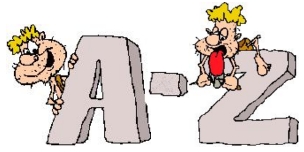 Lists about every-who   
every-what   
every-when   
every-where   
Lists for every-why   
Lists for every-body   
Lists that Rock
When top 10 lists aren't enough... Alpha Lists has it all from A - Z with many free alphabetical lists and a growing assortment of premium lists in a variety of formats.
Start by selecting a category in the Browse Lists menu. A navigation pane will appear on the right hand side of the window... drill down into the sections until you find the alphabetical list you need. ...or use the search box (just above the Browse Lists menu) to guide you to site content. Use Alpha Lists for research, to add fresh content to your site, or just for fun.
Alpha Lists will have an alphabetical list of almost everything; if you don't find what you want... just ask.
Alpha Lists subscribers receive access to premium content, list update alerts, and more.